Hope and a Future Learning Center

Hope and a Future School Learning Center is located in Chiang Mai, Thailand on the Projects for Asia Campus.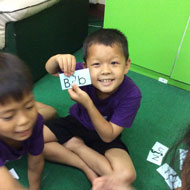 The school is a type of "home school" for the children living in the Hope House Children's Home. Grades 1 – 12 are offered at the school and are taught based on each child's academic ability, not age. Coming from remote tribes, the children often have inferior academic backgrounds or no previous schooling at all. The children converse in their tribal languages and do not speak Thai which is the language spoken in the public schools. Some children arrive at Hope House advanced in age but functioning at early primary grade levels. The Hope and a Future teachers educate to strengthen the children's weaknesses and strive to help each child be literate in Thai and function with basic math ability.
Also, seeing the great need to make our children self-sustaining upon leaving Hope House, the school provides vocational training in practical life skills. For those children who are academically able, they may choose the university track and pursue their desire for higher education.