Hope and a Future Learning Center

Hope and a Future School Learning Center is located in Chiang Mai, Thailand on the Projects for Asia Campus.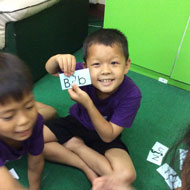 Nestled in the trees of the Projects for Asia campus, is the Hope and a Future Learning Center. The school is designed to be surrounded by greenery and intimate in nature, avoiding an institutional feeling. Every morning the 60 Hope House children walk to class on stone paths to their classrooms. Classrooms have large windows on all sides allowing gentle breezes to blow through and the forest trees with their birds and lizards are part of their learning environment. This is the special school for our 60 hill tribe children where they can learn in a relaxed and familiar environment.
Hope and a Future Learning Center was conceived 7 years ago out of the need for a school that meets the unique educational needs of our hill tribe children. Our children arrive at Hope House with varying degrees of education. Some have never gone to school and others have gone to mountain schools with marginal education. Our children arrive speaking their native tribal languages and Thai becomes their second language. Coming from the mountains, the children are not sophisticated in the ways of the urban world and are only vaguely familiar with Thai culture. The hill tribe children practice animism as their religion. At Hope House they are taught Christianity. In Thailand's government schools, they learn Buddhism. The differences in religious beliefs were confusing to the children. The government schools are not flexible in placing children. Each grade must be finished before another is started. So, for instance, a 10 year -old child might be starting the 1st grade. At our Hope and a Future Learning Center, our children can learn at their own pace and we have the flexibility to advance children when they are ready, saving time so they are not too old when they finish school. There is no stigma at being "older" in a younger class because the child can make up the time later.
Hope and a Future Learning Center is a licensed government recognized school for elementary grades. The higher grades, 7-12, are taught with their own teachers using the government non-formal education curriculum. The non-formal curriculum allows the students to condense 3 years of education into two. Grades 7,8,9 are taught in 2 years and 10,11,12 in two years, allowing students to graduate quicker.
Upon high school graduation, our children can elect to attend vocational school or enter university. Those enrolled in correspondence universities can work at Hope House as junior Hope House parents and school classroom aids. With this money, they can afford their school tuition and have a free place to live until they complete their schooling.
Hope and a Future School has a life skills component. Our children have 10 -week classes in various life skills such as welding, electrical wiring, plumbing, cooking, knitting, gardening, etc. These skills will enable them to be able to function in society after leaving Hope House. Some children will also be able to get jobs with these skills.
Hope and a Future Learning Center has the objective of equipping students to be positive contributors to Thai society. They will be able to function in the country's Thai language and will understand the country's culture and appreciate the history of their country. They will also have a rudimentary understanding of the English language. Our students will carry their knowledge back to their tribes and serve as leaders who can read and write the Thai language and operate in mathematics, helping their fellow tribe members. We encourage our children to maintain their tribal differences and identities. Upon graduation from Hope and a Future Learning Center, our students will be grounded in the Word of God and able to share their faith in their own languages and tribal cultures, being spiritual leaders to their own people.